Shop Fitting Units

Tegometall continues to be the most used and preferred shelving system in Europe. Favoured by most high street retailers for its versatility, strength and superb cosmetic appearance. Tegometall systems are easy to erect, available in many colours, sizes and styles and has endless configuration possibilities.
Eden is a generically similar, UK manufactured, alternative to Tegometall. Due to the strength of the Euro it currently provides a more cost effective option but is in turn a little more limited in terms of range/accessories.
Many add on accessories are available, or can be manufactured in house, to suit your particular retail trade, including hooks, arms, rails, pegboard, dividers and lots more.  You can choose the number of shelves per unit as well as the many heights and lengths available.
We have illustrated a selection of the most popular wall bay and gondola configurations merely as an indication of the vast number of options available.
Examples Of Use
Shelving Units – Gondola and Wall Units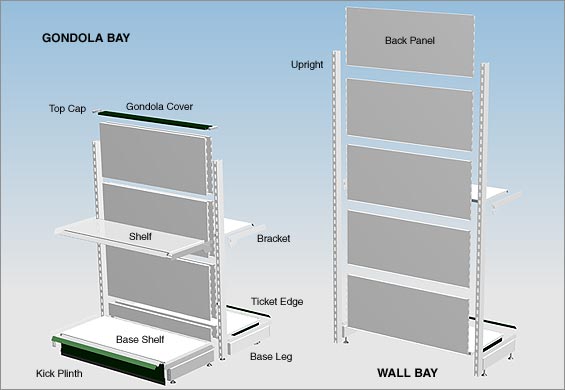 These can be stand-alone units or incorporated in bays and runs, and can be tailored to suit individual requirements with numerous combinations of shelving with or without dividers, hanging hooks, rails, cages etc.
Runs of units are interlocking due to the upright supports and base feet being shared by the units either side. The uprights can also be shared by back-to-back (double) units.
Prices quoted here do not include feet or uprights.  For each unit an upright and foot is needed, plus one to complete every run or stand-alone unit.   
Units are available in various heights, widths and depths to suit individual specifications. Different coloured options are available to suit your retail colour scheme.