Portal Frame Buildings
Because we understand that you may want a clear unit, we also design and build portal frame buildings to meet your individual needs.
These buildings offer cost effective accommodation for commercial, leisure, agricultural and industrial use. We can provide you with any shape or size of building, even multi-storey steel-framed structures.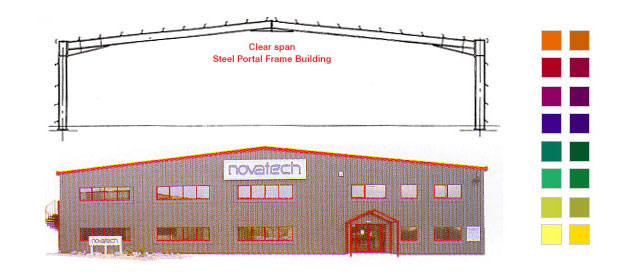 Portal frame buildings can be supplied to your exact dimensions and specifications, can be erected and occupied more quickly than traditional buildings and allow for easy future expansion.
All of our portal frame buildings can be supplied in a range of cladding materials including composite cladding and box profile sandwich construction to reduce energy costs in use. And we can incorporate fire-rated walls and anti-condensation features at your request.
The applications of relatively inexpensive portal frame buildings are almost limitless; from aircraft hangars to office space, milking sheds to sports halls, warehouses storage systems to car parks, factory units to hay barns. So, if you're thinking about erecting buildings on a new site or need more space on your existing site, contact us for more information.
Examples of Portal Frame Buildings