Case Study 6 - Global Building Materials Group
The Client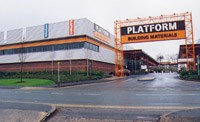 Platform Building Materials Ltd, part of the Saint Gobain group, has traded the 'Platform' brand successfully over a number of years and in many countries throughout Europe and beyond.  ATOL has been the principal racking and equipment supplier to the parent company's operations in the UK over many years.  The company approached ATOL regarding the introduction of the brand into the UK, in a number of clustered locations in major population centres.
The Problem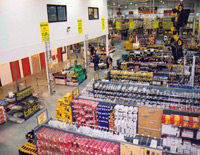 The proposal was to create an initial 12,000m2 site from a 'brownfield' location in Birmingham.  This would comprise: a major customer accessible warehouse, a goods-in facility, a second similar-sized warehouse for bulk and back up stocks, and a yard for durable materials.
The ATOL team was invited to view the client's French operations, and work with their development team, to produce the specification for storage solutions and to explore every opportunity to improve on existing practices.
The Solution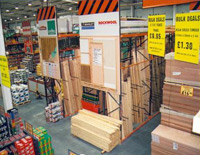 We visited several of the client's  overseas locations and reviewed their operations.  We then worked closely with Platform Building Material's Space Planning Manager, to optimise the proposal for the UK operation, introducing many innovations for storage, display and the movement of product through the main customer warehouse and bulk storage areas.
ATOL's extensive knowledge of diverse storage solutions and the expertise we have accumulated over many years serving the merchant sector, allowed us to provide the client with the most cost effective solution to their needs.  We also provided innovative opportunities to achieve the best results from their available space, while maintaining maximum flexibility.
The Outcome
As a result of excellent preparatory planning and collaborations with the client from the earliest concept stages, the initial project was delivered on time and to budget.  And ATOL has since completed seven further, similar-sized projects across the UK for this client.