Case Study 1 - Small Independent Retailer
The Client
Sweet Tooth is a small independent low-cost retailer, local to the Leicester area. At the time they contacted ATOL, they had one shop in existence selling predominantly cut-price and budget food, beverages and consumables to the public. Having experienced excellent growth they were ready to open a second shop in new location.
The Problem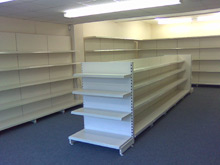 Sweet Tooth was looking for a local supplier able to fit out their new premises. As a small operation, the cost of the new shopfitting system was of paramount importance. And, with the premises already secured and the lease in place, an additional challenge was to get the new shop up and trading in as short a timeframe as possible. ATOL were more than happy to rise to both challenges and welcomed to opportunity to work with a new client.
The Solution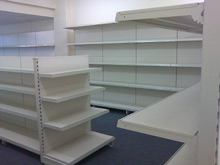 At 750ft2 this was a relatively small premises and ATOL designed the layout from scratch. The new venture not only incorporates the image and ethos of the established business, but is tailored to reflect the unique characteristics and needs of the new location and customers. The shop fit out also presents improvements on the operational function of the original store.
Although delivering a budget solution was the primary factor in selecting an appropriate system, ATOL also paid great attention to the flexibility and durability of the shop fitting to provide the best value for money in this rapid stock turn environment.
ATOL pride themselves on being flexible and due to our extensive stocks and access to different ranges of shopfitting we were able to give Sweet Tooth an immediate low-cost, off the shelf solution and were able to schedule the installation for the week after they contacted us.
The Outcome
The period from initial phone call, through site survey, proposal and then installation, was less than 10 days which meant minimal loss of profit for our client. The whole project was completed within Sweet Tooth's original budget and was so successful that they opened a third shop with us only 6 months later.